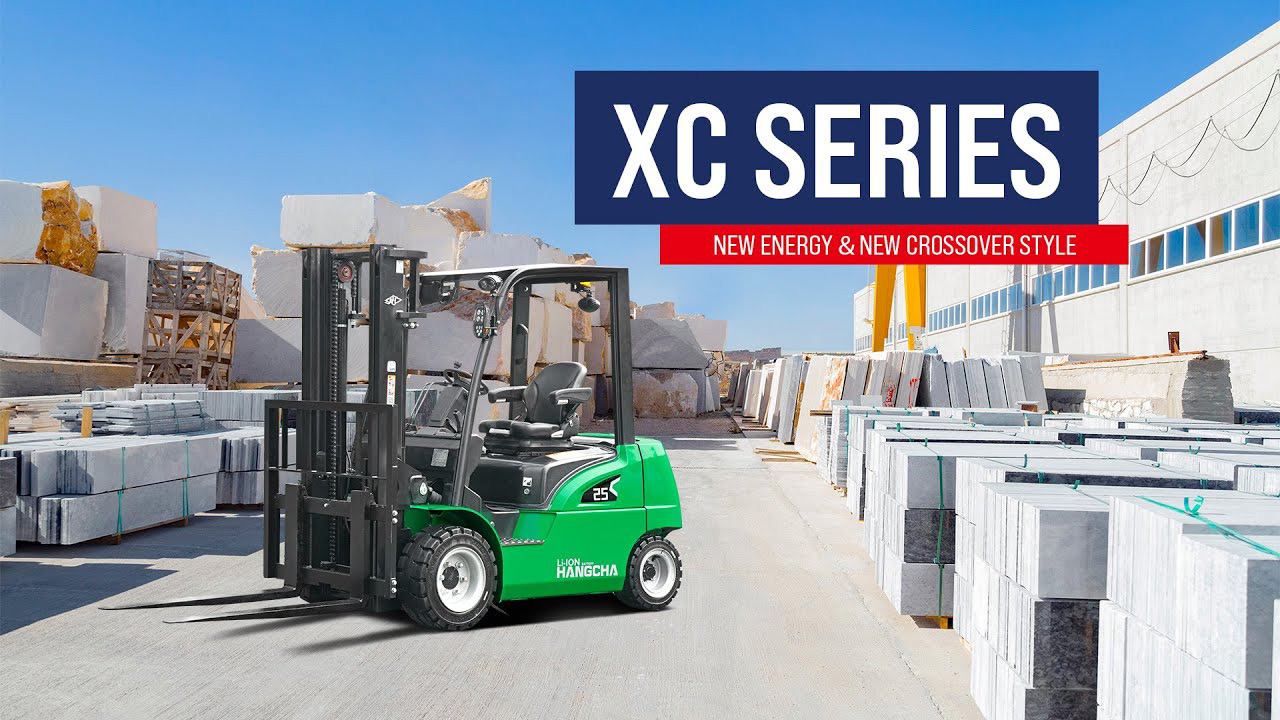 The best lithium forklift truck, with a Rental-Full-Service promotional contract (36 months)
"With the NEUWERTH's "don't worry" offer, I benefit from state-of-the-art forklift trucks, without blocking my capital, without worrying about maintenance. In addition, I save fuel costs and reduce my carbon footprint! "
Contact us and test our trucks now!
3 pre-configured models to choose from:
Designed to replace diesel, petrol or old lead batteries, these models are perfectly suited for working outdoors, in the cold or even in the rain.
1.8t lithium forklift truck (Model CPD18-XD4-SI16), Fr. 566.-/month, excl. VAT*
2.5t lithium forklift truckt (Model CPD25-XD4-SI21), Fr. 587.-/month, excl. VAT*
3.5t lithium forklift truck (Model CPD35-XD4-SI21) à Fr. 689.-/month, excl. VAT*
*Excluded wheel change / Max. 500 hours per year.
All three models are equipped as standard with:
triplex mast with lift up to 4.5 metres
4th hydraulic valve
Sideshift
windshield and rain protection roof
CATL (world leader) lithium battery
compact charger with maintenance-free software
IPX4 sealing for outdoor work

Long service life
4000 full charging cycles with at least 80% residual capactity.

Fast return on investment
Add flexibility to your operation, cost-saving in the long term, increased efficiencies.

Maintenance free
No filling with water or control of acidity level. No draining, filters and controls as on thermal engines.

Fast charging
2 hours full charge, economic use of each break.

Cold area application
Li-ion batteries maintain high performance at temperature below freezing.
High safety and reliability
Intelligent battery management system (bms) monitoring every important function. No emission of battery gasses.
Intermediate charge
Full performance during teamwork thanks to fast and efficient intermediate charges.

High energy density
The high energy density of li-ion battery ensures working times and increase.
"A new range of forklift trucks, specially designed to replace diesel, fuel or lead-acid battery."
Hangcha "XC series" forklift trucks in detail
The truck works in extreme cold or heavy rain while maintaining its excellent performance and long battery life. In addition, the innovative architecture makes this lithium forklift unique: all heavy components are placed very low in the wheelbase to reduce the necessary (counter)weight of the machine, thus reducing the energy required even when empty.
Exclusive CATL Lithium-ion battery
4 models available from 2.0t to 5.0t
Work indoors and outdoors
Maintenance-free battery, long service life
IPX4 Waterproof
The timeless design and quality components (CATL Battery, INMOTION Controller, KDS Traction, SCHABMULLER Motor Pump) make this little gem a model designed to last a long time.
With its low noise level and excellent ergonomics for the operator, the new XC quickly becomes indispensable, relegating the other trucks to second league status!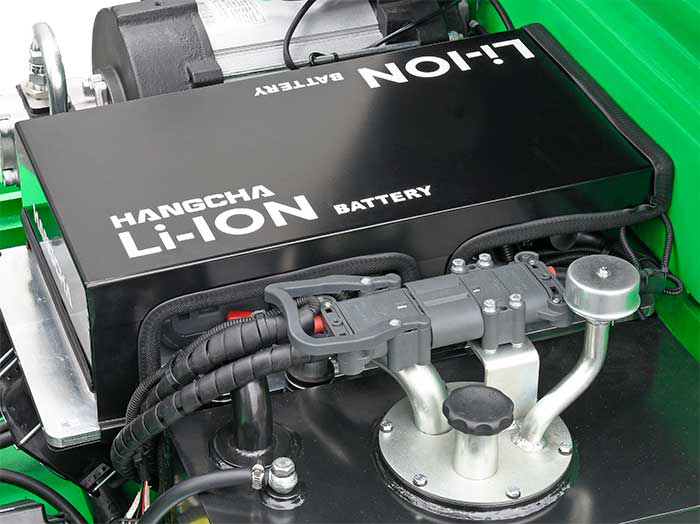 The Integrated Battery Management System (BMS) continuously monitors energy management and ensures reliable operation.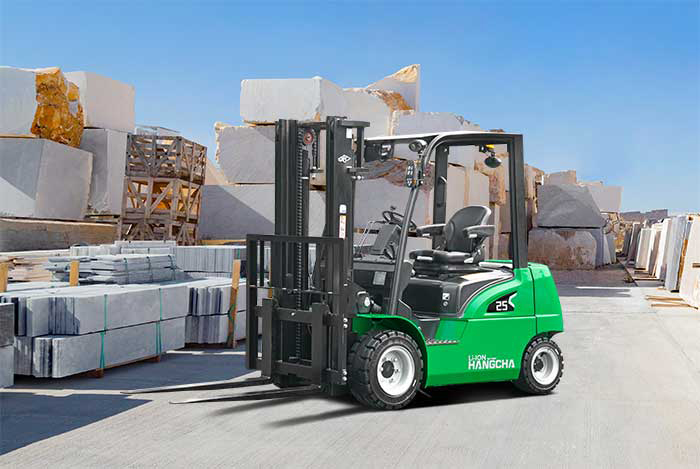 The forklifts of the HANGCHA XC range are comfortable both indoors and outdoors with a perfect waterproofness (IPX4) and an adapted speed of 19km/h.
The latest generation CAN BUS control unit facilitates both the correct use of the truck and its maintenance. If necessary, a PIN code can be programmed so that only authorized persons can operate the forklift truck.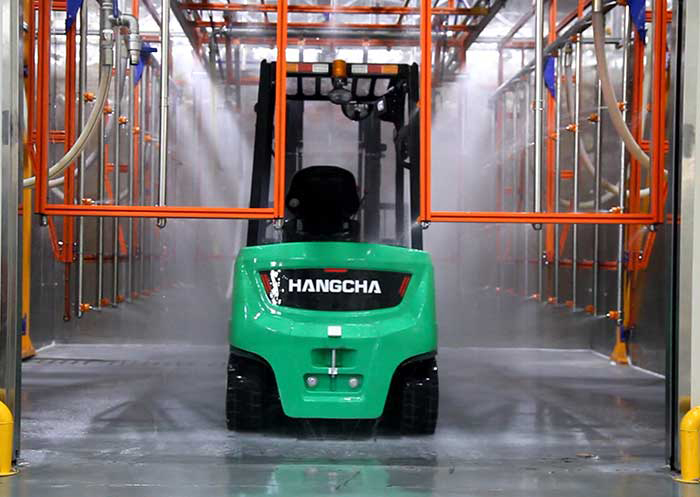 IPX4 compliant, our LITHIUM electric forklift truck is rainproof!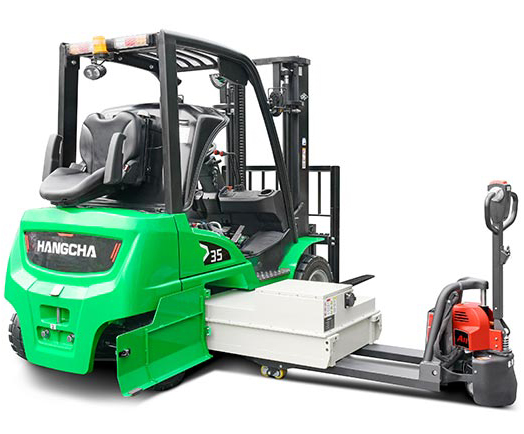 The smallest of our pallet trucks is sufficient to remove the lithium battery pack. All the components of the trolley are easily accessible.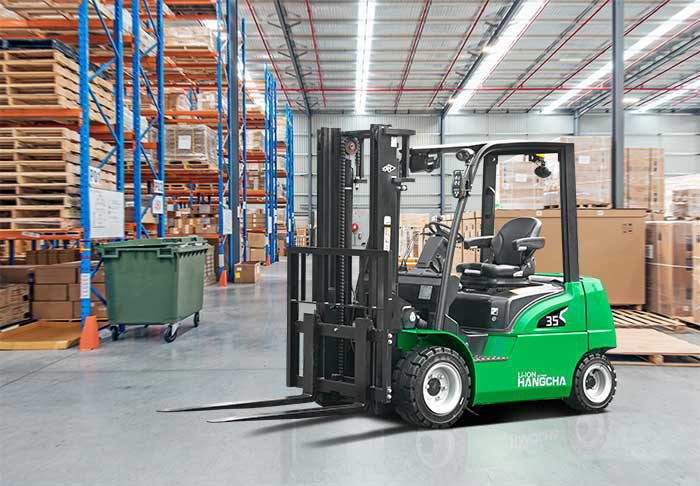 The most versatile of our forklifts:
comfortable for indoor work (low noise, no odour, compact dimensions)
comfortable for outdoor work (IPX4 waterproof, powerful and fast with a speed of 19km/h)
long trolley life (high quality components, solid construction, timeless design)
tailor-made (even more powerful batteries and many options are available)