Safety in the warehouse, safety in the company
Inspection of racking systems according to EN 15635
The EN 15635 standard on "Use and maintenance of storage systems" prescribes regular inspections of racking systems to ensure the safety of employees in the warehouse and to prevent the risk of damage to the goods.
Depending on your needs, we offer you a targeted or all-inclusive service with intelligent integration of your racking, forklift trucks, autonomous industrial trucks, cleaning robots, safety barriers, etc. ... for an optimised and safe storage of your stock.
The racking systems subject to inspection are :
shelving systems
pallet racking
cantilever racks
storage racks
dynamic shelving
multi-level shelving
mobile shelving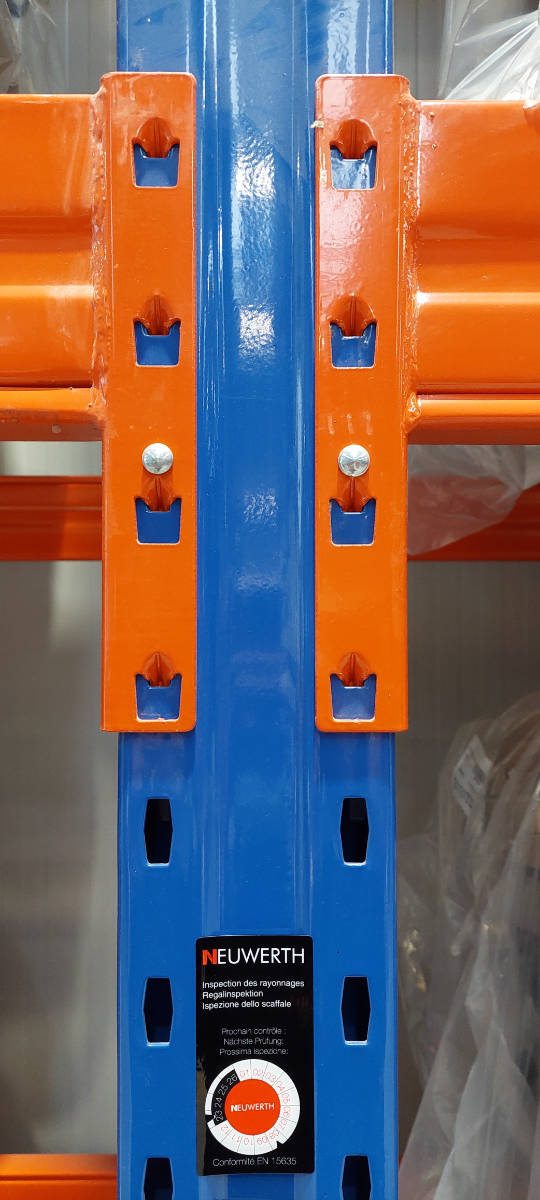 Our racking inspector will check your storage system for possible damage in time. A protocol will be deliverd to you according to a standardised visual inspection. A plaque in each room clearly identifies the official inspections carried out and the following deadlines.
All our experience at your service
Rack inspection according to EN 15635

Inspection of the safety and maintenance of installations (art. 32b VUV) of the SUVA
Visual inspection of uprights and supports for deformation and damage
Comparison of the rack load plates with the rack structure
Creation of the inspection protocol in accordance with current legislation
Issuance of the NEUWERTH inspection sticker
Offer to replace damaged or missing parts
Your benefits
Damage prevention
Accident pervention
Ensuring the safety of your employees

Safety of goods and merchandise stored in your warehouse

Repair costs reduction
Don't wait any longer, protect yourself and entrust the inspection of your racks to professionals. Our certified expert will be happy to advise you.
For more information or to make an appointment, contact us on 027 305 33 33 or at info@neuwerth.ch