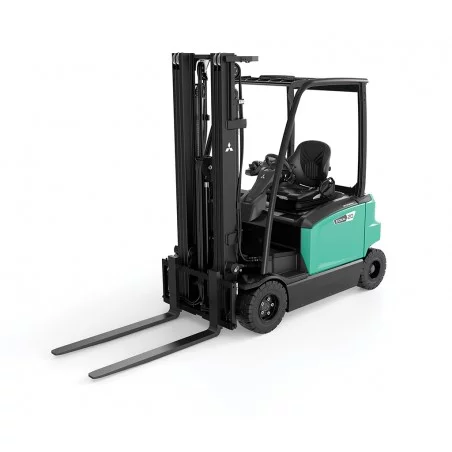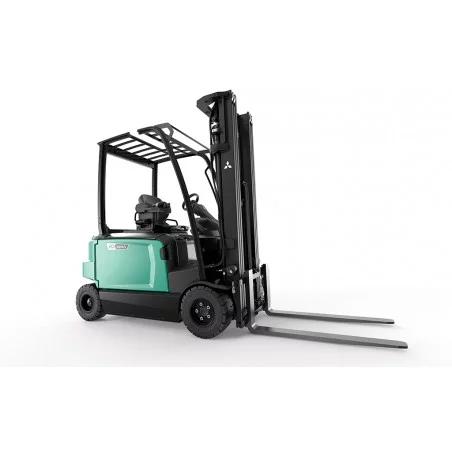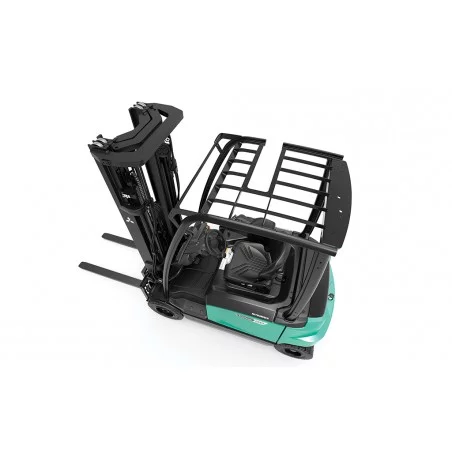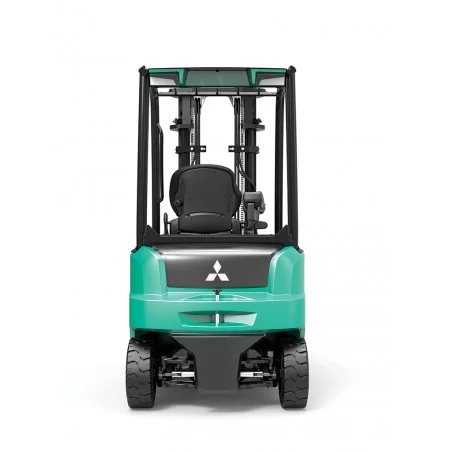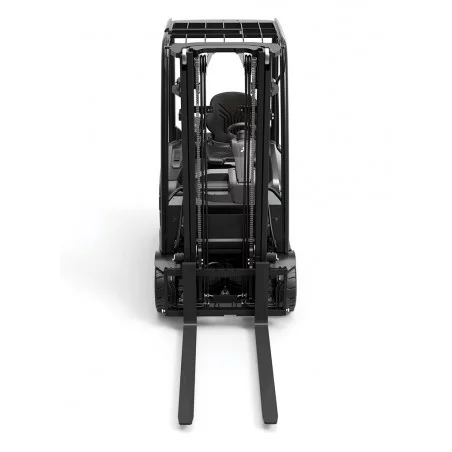 Meet the EDiA EM. It's the most intelligent truck on the market and one of the most durable. Designed and engineered to perform, this 48-volt electric forklift work intuitively, tailoring their performance to your individual operator. EDiA EM's sophisticated software analyses behaviour in real-time and automatically adjusts the truck's behaviour for safe-but-productive performance.
Packed with features, the EDiA EM delivers the manoeuvrability, power and reliability you expect from a Mitsubishi forklift.
This option offers 40% greater efficiency than traditional lead acid... and minimises the risk of operator error.
Allows smooth turning without the 'pause' of a 3-point turn. (Can be applied in models featuring fingertip controls.)
This provides intuitive driver-assist with graduated performance management according to steer angle, foot and finger actuator velocity - significantly contributing to safety.
An extra-large entry step and ergonomic grab handles ensure safe access to the cabin. An easy-swaying access reduces strain on operators' knees, backs and heels.
Intelligent Cornering System
Automatically adjusts truck speed according to steer angle for increased operator and site safety, improved productivity and reduced tyre wear.
Prevents rollback - even fully loaded on very steep ramps - for safer and faster loading/unloading. Increases operator safety, while improving productivity and reducing product damage.
Mitsubishi Forklift Trucks
super-elastic solid tires
With a range that includes over 150 different models, distinctive green trucks can be seen on work sites and in warehouses all around the world - with Mitsubishi forklifts, reach trucks, order pickers, pallet trucks and more all serving the backbone for some of the busiest and demanding operations around.
Innovative design, cutting-edge technology and uncompromising quality are standards that define everything we do.
Move the world forward
Mitsubishi Forklift Trucks is proud to be part of Mitsubishi Logisnext Europe (MLE).
MLE is part of the global Mitsubishi Logisnext group - Mitsubishi Logisnext Co. Ltd (ML) - based in Kyoto, Japan. Founded in 1937, ML is a leading provider of innovative logistics and materials handling solutions, operating in Africa, the Americas, Asia, Europe, the Middle East and the Pacific. ML aims to support and contribute to society through pioneering advances in hardware and software.

ML is a component of the Mitsubishi Heavy Industries group. MHI was established in 1884, having been originally founded as a shipbuilding company in 1870 by Yataro Iwasaki. MHI has since built on its engineering heritage to become a global leader in manufacturing dedicated to continuing progress through technological advancement. It delivers integrated solutions to meet industry needs on land, at sea, in the air, and in space.
NEUWERTH Logistics SA represents the Mitsubishi Forklift Trucks in Switzerland after having commercialized the UniCarriers trucks and before the ATLET brand.
Product added to wishlist
Product added to compare.