Specificities of the bucket truck
There is no need of any limiting device for lateral outreach
Double pantograph to obtain an override height of 6 m
Telescopic boom
Articulated terminal boom "JIB" to reach even the most uncomfortable positions over roofs and balconies
360° continuous rotation of turret without any limit on the whole working area
100% hydraulic controls with proportional system in low pressure to allow gradual and accurate movements, and long-lasting life to the platform with maintenance costs reduced at minimum
Rotating basket to be able to work in every position
Electric power tap 230 V in basket
Engine start & stop from basket
Optional auxiliary engine to operate the platform without using truck engine
Stop safety valves directly mounted on each hydraulic cylinder
Hour-counter in the cabin
Closed outriggers warning light for driving safely
Hydraulic basket rotation 90°+90°
Stabilisation: n° 4 hydraulic outriggers
360° continuous rotation
100% hydraulic controls in low pressure
Minimum GVW 2.2 ton
NEW EUROSKY 16/2/6 HQ JIB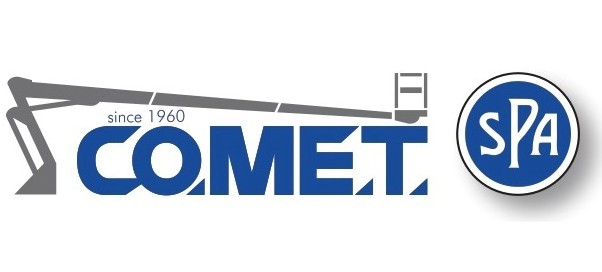 Comet (CO.ME.T. Officine) was founded in 1960 and has been the first company to introduce in Europe the concept of "platform for aerial works", equipment that finally enables operators to work safely and with comfort at high altitude. During all these years CO.ME.T. has counted in its portfolio many patents, whom the last one is the innovative overpressure NO – DRIP system.
The new factory is composed by an area of 20.000 m², with 10.000 m² of premises, where CO.ME.T. Officine manages all the manufacturing process, from design to prototype implementation, from row materials inspection to final test of end-products.
Product added to wishlist
Product added to compare.