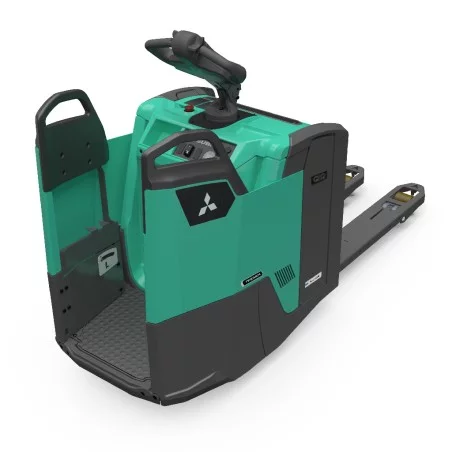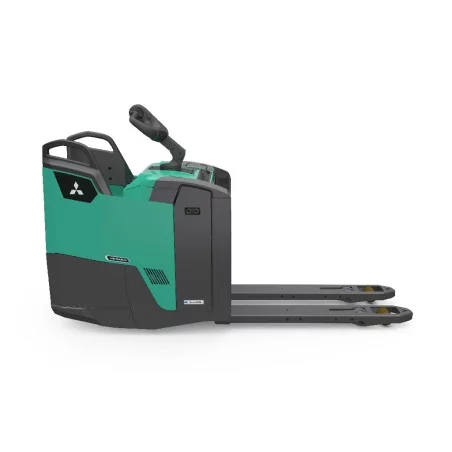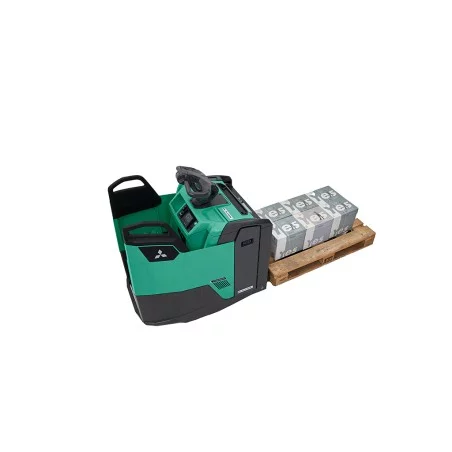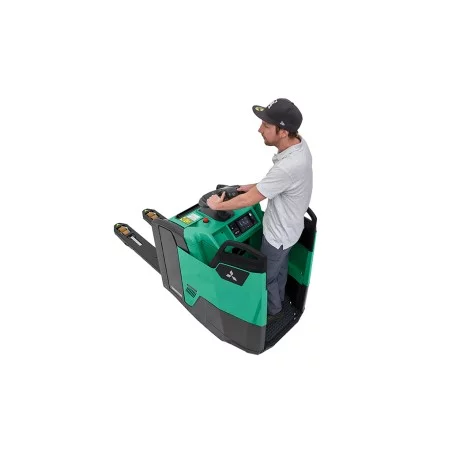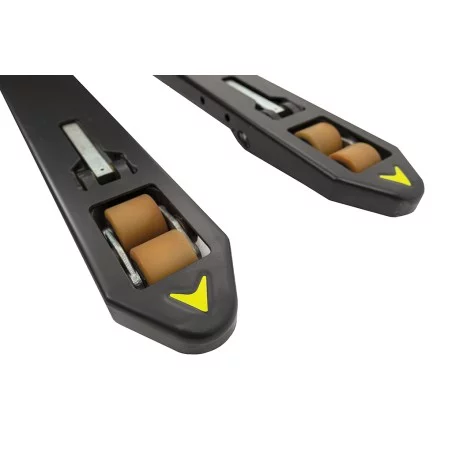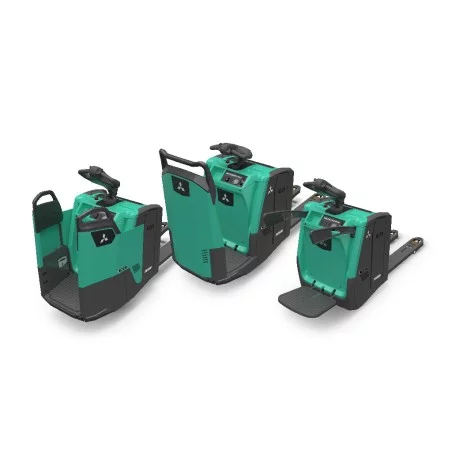 The patented DriveSteady system ensures outstanding drive wheel pressures, excellent shock absorption and side stability when cornering - making PREMiA EM a milestone power pallet truck.

The ergonomically shaped, best-in-class ErgoSteer tiller head features easily accessible controls that allow the operator to manoeuvre the truck comfortably, safely and intuitively, keeping their focus on the job at hand.

Within PREMiA EM, connectors and sensors are sealed to protect from dust, water and debris, enabling long service intervals, less maintenance and maximum uptime.
Class-leading, IP65-rated weather-proof tiller head with easy-to-reach controls ergonomically placed for greater comfort and less fatigue.
Combi controller lift system
The operator can easily control the speed of the forks when lifting and lowering, for smoother operation.
Market-leading lift height of 220mm
Ideal for handling on steep ramps, loading docks and uneven surfaces, even when using recycled pallets.
EasyRide adjustable dampening system
Electric dampening allows operator to adjust the platform to their weight, optimising the dampening effects and ensuring safer and more comfortable operations.
Unique patented system offers maximum traction, damping and stability on uneven surfaces and in wet conditions, especially when cornering.
Mitsubishi Forklift Trucks
0.07 / 0.09 | 0.06 / 0.09 m/s
1216 / 1691 | 1270 / 2110
0.12 / 0.09 | 0.11 / 0.09 m/s
With a range that includes over 150 different models, distinctive green trucks can be seen on work sites and in warehouses all around the world - with Mitsubishi forklifts, reach trucks, order pickers, pallet trucks and more all serving the backbone for some of the busiest and demanding operations around.
Innovative design, cutting-edge technology and uncompromising quality are standards that define everything we do.
Move the world forward
Mitsubishi Forklift Trucks is proud to be part of Mitsubishi Logisnext Europe (MLE).
MLE is part of the global Mitsubishi Logisnext group - Mitsubishi Logisnext Co. Ltd (ML) - based in Kyoto, Japan. Founded in 1937, ML is a leading provider of innovative logistics and materials handling solutions, operating in Africa, the Americas, Asia, Europe, the Middle East and the Pacific. ML aims to support and contribute to society through pioneering advances in hardware and software.

ML is a component of the Mitsubishi Heavy Industries group. MHI was established in 1884, having been originally founded as a shipbuilding company in 1870 by Yataro Iwasaki. MHI has since built on its engineering heritage to become a global leader in manufacturing dedicated to continuing progress through technological advancement. It delivers integrated solutions to meet industry needs on land, at sea, in the air, and in space.
NEUWERTH Logistics SA represents the Mitsubishi Forklift Trucks in Switzerland after having commercialized the UniCarriers trucks and before the ATLET brand.
Product added to wishlist
Product added to compare.