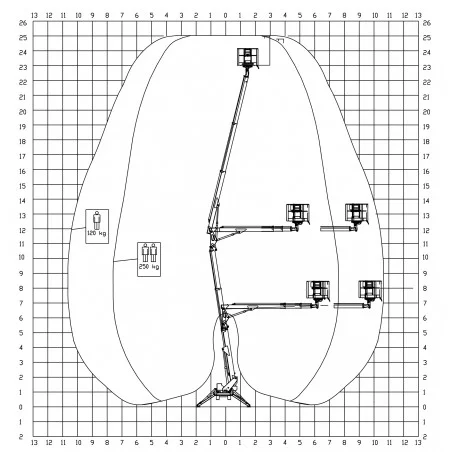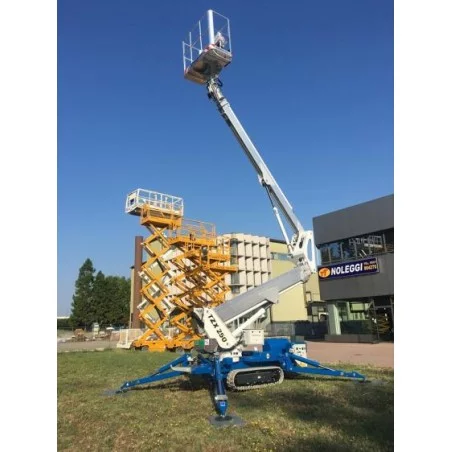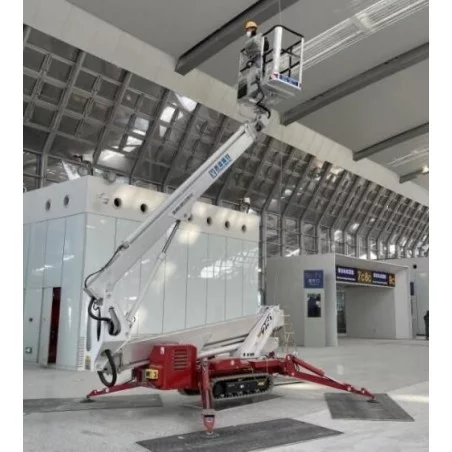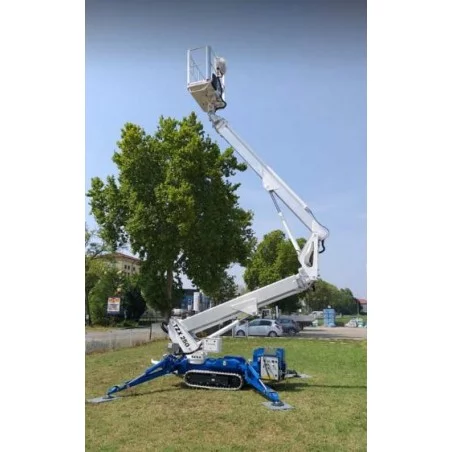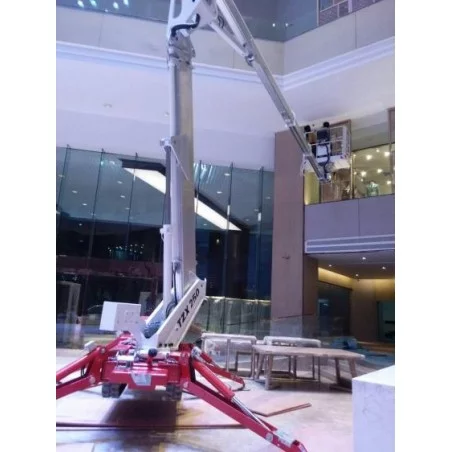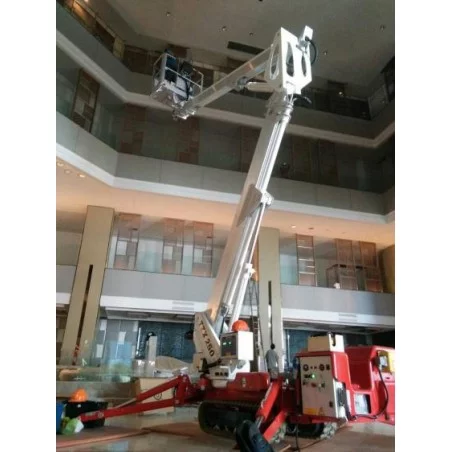 ALUMINIUM TELESCOPIQ ARTICULATED BOOM, MINIUM WEIGHT, MAXIMUM PERFORMANCES
The boom with two articulated and telescopic sections gives a maximum working height of up to 25m and without any limitation with 2 operators in the cage.

Set-up is easy and fast with automatic self-levelling.

Excellent stability when driving on uneven ground and slopes.
NON-MARKING TRACKS / WHEELS
Super-elastic rubber tracks and wheels suitable for the most delicate flooring, do not mark or wear the surface on which they are used.
MANUAL STABILIZERS SET-UP
Stabilizers can be set-up anywhere thanks to the manual mode. Really useful when working in areas where precise or individual control is needed
2 SET-UP POSITIONS
This model provides two distinct set-up positions: wide and narrow, to adapt the machine to suit different site requirements
FREEDOM OF INDOOR AND OUTDOOR USE
Thanks to the dual power in the bi-energy version, the platform can be used both outdoor, using the diesel engine, and indoor, with zero emissions, using single-phase (powered by domestic power) or three-phase electric motors.
POWER OPTIONS FOR EVERY NEED
This platform is available in bi-energy version (standard) with diesel engine and electric motor; in hybrid version with diesel engine and batteries, ideal for working in closed environments where there's no access to electricity; in ECO version, completely ecological and with zero emissions, equipped with electric motor and batteries, indoor environments or where diesel engine use is not permitted. Lead-acid or lithium batteries are both available.
AGILITY AND COMPACTNESS
The excellent weight / performance ratio and the small size, make this platform Palazzani Spider ideal for aerial working in places inaccessible to other types of MEWP. The ability to drive on any type of terrain, automatic chassis leveling and set-up even on slopes makes it even more versatile and suitable for use in hostile places.
WIRE CONTROL
Cable control connected to the main panel, to perform all the maneuvers of the platform from the ground.
ATTACHMENTS FOR THIS MODEL
Intercom

Additional stabilizer pads
Radio control
Anti-collision kit for basket
Anemometre
Additional hoses air/water
Automatic levelling system
2nd speed kit
"Return at home" function
Diesel+AC (Bi-energy) or DC+AC (Eco)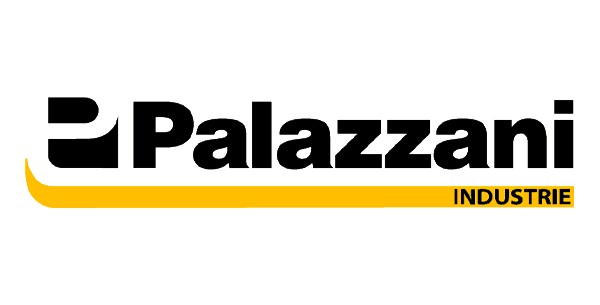 85 YEARS OF GROWTH
Palazzani is a company with a history of over 85 years, specialising in Earth Moving Machines, Aerial Platforms and Mini Cranes project engineering and manufacturing. A totally Italian Company, which has been able to confirm its position and to expand its business in a global and internationally competitive market.
Our customers are skilled people who recognise and expect quality, especially when it is the result of choices matching technology and passion. They continue to demand the highest quality, which meets or exceeds their expectations. They communicate directly with the people at Palazzani who continue to create, innovate and produce the exceptional machines.
Davide Palazzani, C.E.O. of Palazzani Industrie
Product added to wishlist
Product added to compare.